Samuel Etherington jailed for killing Gosport teenagers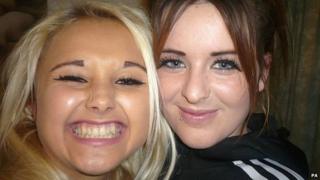 A "boy racer" has been jailed for nine years after admitting causing the deaths of two girls whom he hit with his car.
Jasmine Allsop, 14, and Olivia Lewry, 16, were hit by a Honda Civic in November in Gosport, Hampshire.
Samuel Etherington, 20, had taken ketamine and mephedrone before the accident.
He had denied two counts of manslaughter but admitted two counts of causing death by dangerous driving.
The pleas were accepted by the Crown Prosecution Service (CPS) at Winchester Crown Court.
Etherington was also banned from driving for seven years and must take an extended driving test on his release.
'Simply a menace'
Jailing Etherington, Judge Guy Boney QC said it was one of the most serious cases of death by dangerous driving seen by the courts for a very long time.
He said: "You are quite simply a menace behind the steering wheel of car.
"For you, the sentence which has to be passed will be a life-changing event. For your two victims, it's worse than that.
"For them is was a life-ending event, their lives snuffed out before they had barely started."
Etherington, an unemployed sports coach from Gosport, was driving a modified green Honda Civic, described by Judge Boney as having a "boy-racer" exhaust system which made the car sound noisier, in Ann's Hill Road at about 04:15 GMT on 3 November.
The V-registered green Honda Civic, described by Etherington as Rory the Racing Car on his Facebook page, also had lowered suspension and white stripes down the side.
The vehicle had defective tyres when Etherington was previously prosecuted and the court heard that the car also had defects at the time of the fatal accident.
He had been taking illegal drugs and hit Jasmine and Olivia near the junction with Brougham Street at 65mph (105kmh) in a 30mph residential area.
Nicholas Haggan QC, prosecuting, told the court Etherington had been due to pick up the girls after a party but drove past them, before driving his car at high speed directly at them.
Mr Haggan said a black box fitted to the vehicle for insurance purposes showed Etherington accelerated to 71mph (114kmh) with the collision happening at 65mph.
He described how the two girls had their arms around each other's shoulders when they were struck by the car on the wrong side of the road and flung into the air.
Jasmine, who lived yards from where the crash happened, died at the scene while Olivia was taken to Portsmouth's Queen Alexandra Hospital where she later died.
'Deliberate dangerous driving'
Following Thursday's court hearing, Ian Harris, from the CPS, said the death by dangerous driving plea was accepted after "very careful consideration" with Olivia and Jasmine's families.
"Although we accept that he did not intend to kill Olivia and Jasmine, the fact remains that he did kill them as a result of a completely unnecessary and genuinely appalling piece of deliberate dangerous driving, exacerbated by his decision to drive having consumed ketamine and mephedrone earlier that night," he added.
"No words can convey the suffering that his actions have caused and no sentence can compensate for the dreadful loss of two young lives."
Mr Haggan said Etherington had a previous conviction for driving without due care and attention and failing to stop for a police officer in an incident exactly two years before the fatal crash.
Because of this offence and an earlier speeding offence, the court heard he was banned from driving for a year-long period, only regaining his licence in February 2013.
Oba Nsugbe QC, defending, said that Etherington was "devastated" by his actions and "cried for four days" following the accident.
"He still has nightmares where he sees the victims in his sight," he added.
"He wishes that it was his life that was lost that evening, not that of those two young girls."
Following Etherington's sentence, Olivia's family issued a statement thanking the local community and authorities for supporting them.
They said: "The help of all these people has been greatly appreciated and given a lot of comfort not only to what has just happened but also for the future."
A private ceremony for close family and friends was held for Jasmine at St John the Evangelist on 30 November.
Her pink coffin arrived on a white carriage drawn by two white horses with pink plumes in their manes.