Richard Husband denies causing ambulance crash deaths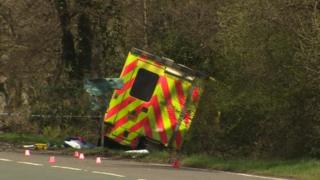 A driver has denied causing the deaths of a paramedic and a patient in a crash involving an ambulance.
Gillian Randall, 42, who was driving the ambulance, and patient Francis Ironside, 88, were killed when the 999 vehicle hit a tree in the New Forest.
The crash on the A337 Brockenhurst to Lyndhurst road happened in April.
Richard Husband, 26, from Brockenhurst, denied two counts of causing death by careless driving. He is due to stand trial on 23 June.
He was released on bail when he appeared at Bournemouth Crown Court earlier.
A crew member and a relative of the patient, who were both travelling in the back of the ambulance as it was on its way to hospital, sustained serious injuries.