Ventnor business start-up centre awarded £95k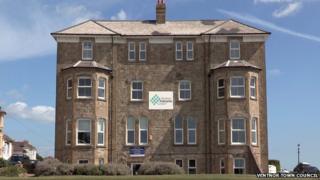 A project to turn part of a Victorian building on the Isle of Wight into a centre for new businesses has been given £95,000 of government funding.
Ventnor Town Council has been awarded a share of the Coastal Communities Fund for its Coastal Enterprise Centre.
The money will be used to refurbish the upper floors of the council building in Salisbury Gardens.
The scheme is one of 50 to benefit from a share of £27.7m aimed at creating jobs in coastal towns in the UK.
The centre, overlooking Ventnor Bay, will provide space for business start-ups and self-employed workers looking to expand their activities.
One person will be employed at the centre, with 35 jobs expected to be created by businesses based there.
Town clerk David Bartlett said: "The grant provides Ventnor with a remarkable opportunity to establish an enterprise centre for business start-ups, stimulate its local economy and extend the life of one its iconic buildings."
The town council said the cost of refurbishing the whole four-storey building was £205,000, with the telecoms installation for the enterprise centre costing a further £15,000.
The centre is due to open in July.
The Coastal Communities Fund is paid for by the government using income from the Crown Estate's marine assets.