Hampshire residents urged to keep sandbags for now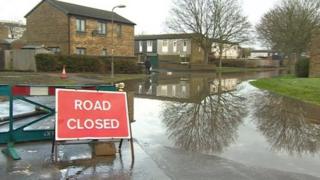 Residents across Hampshire who have been affected by flooding are being warned not to remove sandbags from their properties yet.
Despite the current dry weather, groundwater levels remain "very high", Hampshire County Council says.
It says they have exceeded the levels recorded during the last major groundwater flooding in 2000.
Once deemed safe to do so, the council will ask homeowners to return sandbags to designated collection points.
A spokeswoman said: "Should Hampshire experience more storms or heavy rainfall, with groundwater already this high, further flooding is inevitable, and river levels will also rise again.
"While high, groundwater levels are, in most of Hampshire, now stable."
She said if conditions continue to improve, with just an average amount of rainfall over the next few weeks, then householders will be able to take up to 10 sandbags each to their local household waste recycling centre.
Emptied sandbags can also be put into household bins for collection.