St Andrews Church, Timsbury roof damaged in fire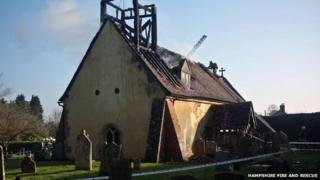 The roof of a 15th Century church in Hampshire has been badly damaged in a fire.
Firefighters tackled the blaze at St Andrew's church in Timsbury, which broke out shortly after 07:00 GMT.
Hampshire Fire and Rescue said crews managed to save artefacts inside the building, including a stained glass window.
Half the roof, including the bell-cote, was damaged by the fire, which is being investigated.
Officer in charge Mickey Smither, said: "Crews worked incredibly hard to contain this fire and protect as much of this historic church as possible.
"They quickly put in a fire break and were able to tackle the fire by removing tiles from the roof."