Hampshire NHS launches 60-second HIV test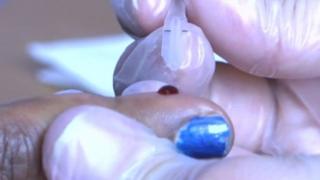 A 60-second HIV test is being offered at community centres in Hampshire in a bid to help people unaware they are living with the virus.
The NHS says there are about 1,500 people in the county living with HIV but it estimates there are at least 300 more who have not been diagnosed.
The free test is being launched in Southampton, Aldershot and Portsmouth.
It is hoped increasing the rate of diagnosis will also help cut the number of people who transmit HIV.
The test, which involves taking a small drop of blood from a finger, produces results in less than a minute.
'Support and counselling'
Andrew Smith, HIV Prevention Lead at Solent NHS Trust, said: "Offering tests in the community makes it easier for people to access HIV testing and, if needed, to quickly access support and care.
"It is important to stress that although the results are available within 60 seconds, we will provide support and counselling before, during and after the testing."
Peter Helliwell, chairman of Aldershot-based HIV charity Positive action, said: "The speed of the new test will help people who are in any way anxious about being tested.
"HIV is no longer seen as a terminal condition. Someone newly diagnosed with HIV can have a near-normal life expectancy.
"The real issues that people with HIV faces are social attitudes and they come from the stigma, stereotypes and negativity that is out there in the community.
"The people we work with are being managed and supported and taking medication, they're not likely to be the source of onwards infection, it's that 20% who don't even know they are living with HIV."