Royal Mail lorry hits couple's 'sold' Gosport house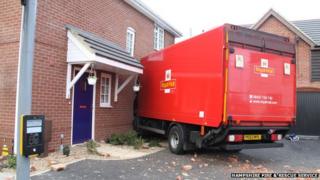 A couple in Gosport who had agreed the sale of their house hope their buyer can wait for it to be repaired after a Royal Mail lorry ploughed into it.
Len and Anne Wiles' house in Wheatsheaf Mews, off Brockhurst Road was struck by the 7.5 tonne lorry while they were sleeping just after 06:00 GMT.
Mr Wiles said: "I'm hoping our buyer can hang on until the house is repaired - it's a beautiful house."
The two bedroom property is due to be assessed for structural damage.
'Gaping hole'
Mrs Wiles said: "The house is sold and we put an offer on another property yesterday which was accepted.
"We don't know what's going to happen now, but at least we're all alive."
The couple said they were dozing in bed "and the next thing all hell broke loose."
Mr Wiles said: "Ten minutes earlier and I would have been on the stairs and either under the lorry or not here at all."
The couple said their first thoughts were for the lorry driver and if he was hurt.
"We were trapped in our bedroom as there was a gaping hole where the stairs were," Mrs Wiles said.
'Expecting a parcel?'
The couple's neighbours have also had to leave their homes which suffered structural damage during the impact.
Following the crash firefighters had to remove a window from the first floor to rescue the couple who are in their 60s.
Mr Wiles said: "The fireman poked his head through the window and said, 'were you expecting a parcel?'"
The lorry driver was taken to hospital as a precaution. The couple were treated at the scene for shock by ambulance crews.
The lorry has since been removed.
In a statement Royal Mail said: "We are carrying out an internal investigation into the circumstances and we are thankful that no-one was injured as a result of this accident."
The couple said they had yet to hear from Royal Mail.
The A32 Brockhurst Road in Gosport has been closed in both directions between Eastbourne Avenue and Elson Road.