Norovirus leads to cancelled operations at St Mary's Hospital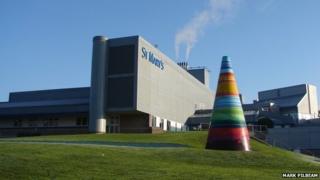 All scheduled in-patient operations, apart from those for cancer, have been cancelled at an Isle of Wight hospital after an outbreak of norovirus.
The measures at St Mary's in Parkhurst Road, Newport, will last until the end of the week.
Five ward areas are currently closed, with around one fifth of the trust's 236 hospital beds affected.
The hospital said patients and staff had experienced symptoms of the highly contagious diarrhoea and vomiting bug.
'Essential visiting'
The main wards affected are the Appley, Whippingham and St Helens.
Colwell Ward, which was previously closed to new admissions, has been clear of the infection for 72 hours, the trust said.
All visiting to the main hospital - not just to the wards closed to new admissions - is restricted to "essential visiting" only.
Sarah Johnston, deputy director of nursing, said: "I recognise that these new measures and the ones already in place are causing considerable inconvenience for patients and visitors but it is essential that we get this under control."
Norovirus is a highly contagious virus that causes nausea, vomiting and diarrhoea.