Maritime Archaeology Trust gets £1m to research WW1 wrecks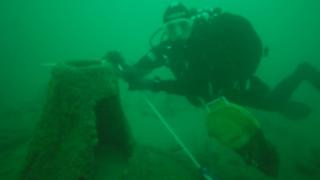 A Hampshire-based charity has been given £1.1m to research the UK's 1,000-plus forgotten World War One shipwrecks.
The Maritime Archaeology Trust said it will use the Heritage Lottery Fund (HLF) money to improve the knowledge of archaeologically significant sites.
The information collected by the Forgotten Wrecks of the First World War project will then be put online.
It is thought the south coast could have 700 relatively unknown wrecks.
These include merchant and naval ships, passenger, troop and hospital ships, ports, wharfs and crashed aircraft.
'Lost forever'
The four-year project is due to commence this spring.
Some sites in the UK are official war graves but many are unrecognised and unprotected.
Garry Momber, Director of the Maritime Archaeology Trust said: "These wrecks are subject to corrosion and the impact of our changing seas so it is only a matter of time before many of these sites could become scattered elements on the seabed.
"There is a real risk that knowledge of these wrecks, if not fully researched, could be lost forever.
"This project is not only timely, but essential to help raise the profile of maritime conflicts in the history books of tomorrow."
Stuart McLeod, head of the HLF South East, said the charity had invested £47m in projects commemorating the centenary of World War One.