New Southampton container port development opens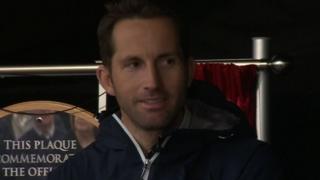 A new £150m facility for handling containers at Southampton Docks has been officially opened.
The 500m (1,640ft) quay will allow the port to accommodate the latest generation of cargo ships.
Chris Lewis, of operators DP World, said the development was "absolutely essential" to maintain business for the port.
Olympic sailor Ben Ainslie officially started operations by loading a golden container on to a cargo ship.
The new 16m (52ft) deep berth, called SCT 5, is designed to handle the largest and deepest vessels in the world, capable of carrying up to 18,000 containers.