Southampton's Western Docks cranes 'affecting TV reception'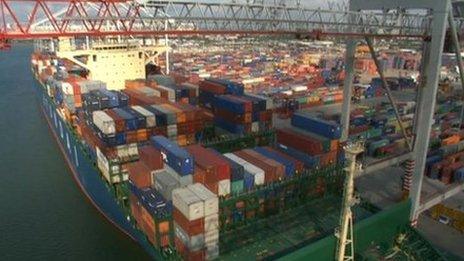 Large crane and shipping movements are affecting TV signals in Southampton, some residents living close to the docks have claimed.
They said problems with reception started about five years ago but had worsened since the arrival of new giant cranes to the port.
Associated British Ports (ABP) said it would investigate the causes of the poor TV reception.
Residents affected include those living in Mill Road and Fawley Road.
Chris Hinds, who lives on Fawley Road, said there was often a "complete break-up of sound and picture", sometimes for up to 10 minutes
As well as crane movements, he said the signal had also been affected by the passing of large container ships.
Nick Ridehalgh, director of ABP Southampton, said: "We take the wellbeing of our community extremely seriously. If there are issues then we will investigate the causes."
Arqiva, which manages the Rowridge transmitter, from which many residents get their aerial TV signal, said there had not been any technical issues.
However, it said signals could be affected by various natural and man-made obstacles, including large cranes, hills and trees.
Residents with cable and satellite TV have not been affected.
Related Internet Links
The BBC is not responsible for the content of external sites.