Ryde rescuers pull woman and dog from sea in fog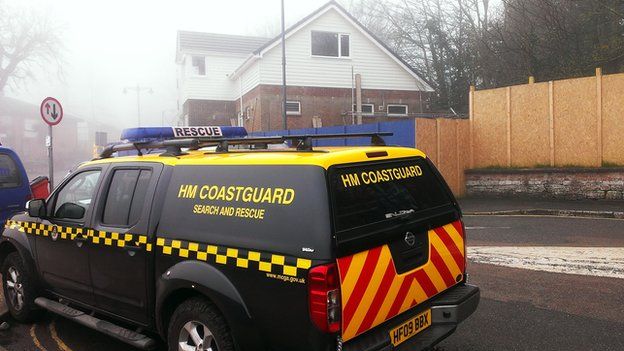 A woman and her dog have been pulled from the sea after becoming cut off by the rising tide in thick fog on the Isle of Wight.
Solent Coastguard took a 999 call just before 08:00 BST from the woman's husband reporting his wife was "very distressed" on Appley Beach, Ryde.
The water was already up to her waist and she was disorientated.
The Bembridge Coastguard Rescue Team and two boats from Ryde Inshore Rescue were involved in the rescue.
Due to the foggy conditions, rescuers had to shout to her to track her down, but she was eventually located.
She was holding the dog when rescued.
After being picked up, both the woman and her dog were passed into the care of paramedics.
Karen Bosman, watch manager at Solent Coastguard, said: "This woman told us she often takes her dog for a walk on the beach in this area, but this morning she was not aware of the rising spring tide.
"Combined with the foggy conditions, she ended up getting stuck up to her waist in the water.
"This must have been a terrifying ordeal and we're grateful that we managed to recover her in time."
Related Internet Links
The BBC is not responsible for the content of external sites.