Eaton's Havant hydraulics plant £2m expansion jobs boost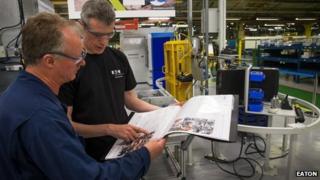 One hundred jobs are to be created at a hydraulics manufacturing plant in Hampshire.
Eaton has announced a £2m investment programme at its facility in Havant.
The firm currently employs 182 people at the plant, and the additional jobs are expected be created over the next five years.
It said the "major expansion" would enable it to meet industry-leading delivery times for its products across Europe, the Middle East and Africa.
The investment includes a new assembly and test line for one of its pumps which is used in vehicles, including agricultural and road sweepers.
Mark Foreman, plant manager at the Havant facility, said the expansion would "reduce wait times by approximately half of current industry standard".
Rt Hon David Willetts, MP for Havant, said the investment showed Eaton's "commitment to our area".