Trams part of Oxfordshire transport plans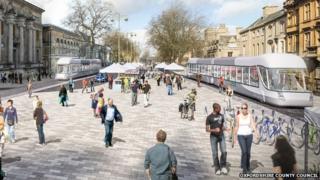 City centre trams and a new train station are included in proposals for the future of transport in Oxfordshire.
The county council's Connecting Oxfordshire plans are designed to cope with the growth in population expected up to 2031.
Council Leader Ian Hudspeth said the proposal would "start a debate" on the county's transport infrastructure.
He added he would not rule out ideas that "might seem fanciful" such as a monorail around the city's ring road.
'Inadequate for future'
A new park and ride service for Bicester and a new Oxford Parkway station at Water Eaton, as part of East West Rail, are included in the document which the council is opening to consultation.
Suggestions also include a new A40-A44 link road as well as improvements to the Junction 9 of the M40.
A car-free "boulevard piazza" with trams is suggested for St Giles in Oxford.
Mr Hudspeth said it would "really give a different feel to the whole city centre".
"If you don't have the ambition then we'll continue to have a system which isn't adequate for the future."
Funds would come from City Deal private sector investors and transport operators, he said.
He added: "Connecting Oxfordshire is about starting the debate on how we can work together to make it happen."