Chadwick the missing flood carp returns to Romsey pond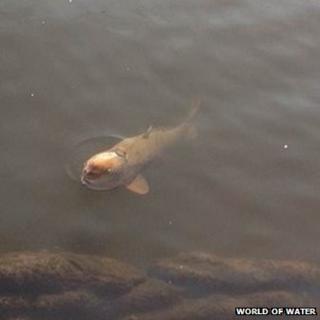 A second metre-long fish that escaped from an aquatic centre during winter flooding has been returned to his pond.
The 10-year-old chagoi koi carp, named Chadwick, swam out of World of Water in Romsey, Hampshire when it was overwhelmed by floods in February.
He was discovered seven miles (11km) down the River Test in Totton with injuries to his fin.
In March, a sturgeon which was lost in the same floods was discovered in a car wash puddle.
Chadwick was spotted by a woman walking her dog near the Salmon Leap pub in Totton.
He was rescued by staff from the centre and was found to have been injured by a fishing hook.
Centre manager Mark Bradbury said "It's a fantastic story, no-one could believe where Chadwick had ended up.
"He has recovered quickly and returned to his normal friendly self, but will be left with a nasty scar and damaged dorsal fin."
Both Steve, the sturgeon, and Chawick were used as part of the shop's displays, but Mr Bradbury said similar fish would retail for up to £1,000.