Kevin Wyeth death: Cage fighter convicted of manslaughter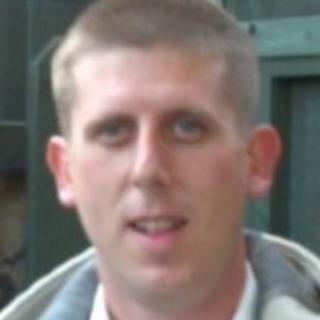 A cage fighter has been convicted of killing his girlfriend's former partner in an alleyway in Southampton.
Father-of-three Kevin Wyeth, 31, from the Woolston area of Southampton, was beaten unconscious in August 2013 and died later.
A jury at Winchester Crown Court cleared Damon Wright, of Pine Vale Crescent, Bournemouth, of murder but convicted him of manslaughter.
Wright, 32, who said he acted in self-defence, will be sentenced on 25 April.
Mr Wyeth was found off Defender Road in Woolston in the early hours of 24 August. He died at the scene from his injuries.
The court heard Wright had put on his cage fighting gloves, then followed Mr Wyeth to an alleyway, unseen, and attacked him, probably from behind.
Mr Wyeth's blood was found on the gloves which Wright later hid in a friend's car.
'Devoted dad'
The jury heard Mr Wyeth was the ex-boyfriend of Wright's girlfriend at the time of the attack.
After the fight, Wight returned to his girlfriend's flat and later came out wearing her clothes in an attempt to avoid detection on CCTV.
About two-and-a-half hours after the attack, Wight eventually called an ambulance but used a false name.
A pathologist's report showed Mr Wyeth had no defensive injuries indicating that he had probably been unconscious from the first of Wright's punches and that he was continually struck while in that state.
Post-mortem tests showed his death was caused by head, facial and neck injuries.
Det Insp Ellie Hurd said after the trial that Wright had admitted inflicting the injuries that resulted in Mr Wyeth's death and that "the jury did not accept that the actions of Wright were justified in self-defence".
Speaking after the verdict, Mr Wyeth's mother, Linda Timberlake, said: "We can learn to accept a death due to illness or old age but this will have an everlasting effect on all of us.
"My son was also a devoted dad to three beautiful boys. He was besotted with his children and lived for them. Their lives have been changed forever."
She added Mr Wyeth's injuries were "so severe" that the family were "unable to see him and say goodbye".
Mr Wyeth's father, also called Kevin, said: "We are all struggling to deal with our grief.
"I feel a lot of anger about what has happened. I never had a chance to say goodbye."