Navy amputee begins kayak coast challenge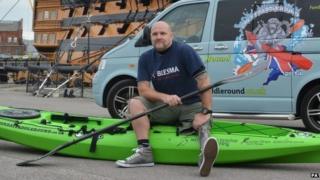 A Royal Navy veteran who had his left leg amputated above the knee has set off in a kayak in a bid to paddle around the coast of mainland Britain.
Richard Hunt, from Fareham, Hampshire, set off from Royal Clarence Marina in Gosport at 05:00 BST.
He expects the challenge will take 100 days of paddling, plus rest days.
Mr Hunt, 43, has been provided with a fully waterproof prosthetic limb to help him balance in his kayak and improve his speed and stability.
He has been training for 13 months for the 2,300-mile trip (3,702km) using a sit-on-top kayak.
Record attempt
He said: "I have not been scared at all; I have just been excited to get going.
"I know it's going to be difficult, I know it's going to be painful and at times it's going to be dangerous, but I am not scared. I feel I am fully prepared.
"My motivation for doing this challenge is that it's always important in life to have goals - it could be, if you're disabled, to get out and get yourself to the shops or maybe to the gym or something like my goal."
The father-of-two had his leg amputated in 1995 after 20 unsuccessful operations to correct a knee injury sustained playing rugby.
He is raising money for Blesma, a charity which helps servicemen and women who have lost limbs.
If he completes the challenge, he would break the current record for the longest solo kayak journey held by ex-Blue Peter presenter Helen Skelton on the Amazon river for Comic Relief.