Hampshire and Isle of Wight Air Ambulance to carry blood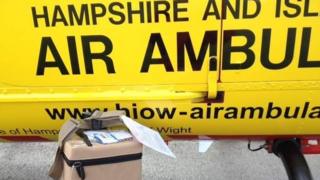 Blood is to be carried on all Hampshire and Isle of Wight Air Ambulance (HIOWAA) flights from this month, the charity has announced.
Using technology first utilised by the British military in Afghanistan, the charity is now able to store the blood at the required temperature.
Type O negative blood will be used, as it is safe to give to any patient.
Dr David Sutton, of the organisation, said it was an "important step forward" for the organisation.
The blood will be packed within a purpose-designed cool box and electronically scanned to record patient details.
Free transfer
The scanner will print a unique patient wristband to ensure the hospital team knows blood has been given, as well as the tracking details for the blood units.
This data is wirelessly transmitted within the hospital onto the transfusion laboratory database.
The University Hospital Southampton Blood Transfusion Department will supply the pre-checked blood to HIOWAA three times per week.
Service by Emergency Rider Volunteers (SERV) Wessex will transfer it from University Hospital Southampton to HIOWAA's Thruxton base every 48 hours as a free service to the charity.
The charity said a limited number of other civilian air ambulances in the UK are also beginning to introduce the therapy.
HIOWAA has provided air ambulance services across Hampshire and the Isle of Wight.
Since its launch in 2007, it has undertaken over 5,000 missions. It costs more than £4,000 per day to keep it flying.