London Marathon runner finishes despite broken bone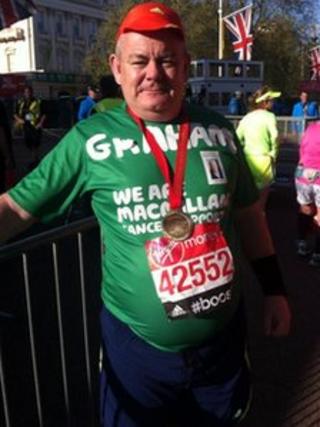 A runner has completed the London Marathon despite running 18 miles with a broken bone in his foot.
Graham Colborne, known as Spud, accidentally stood on a water bottle at mile eight but continued to finish the full 26.2-mile course in six hours and 44 minutes, unaware of the injury.
The 49-year-old from Southampton thought his foot was badly bruised but an X-ray confirmed a broken metatarsal.
He ran in memory of his mother Doreen Colborne, who died in February.
Mr Colborne has raised more than £1,000 for Macmillan Cancer Support.
The senior steward at Sholing FC chose the charity in memory of his 70-year-old mother, who had kidney and lung cancer.
'Absolute agony'
"The pain was excruciating. At the time I thought 'this isn't right'," Mr Colborne said of the injury.
"I wanted to give up but my running shirt had my mum's picture on it and I looked down and I thought, 'I can't give up'.
"I was in absolute agony for most of the time.
"Because I was doing it for my mum, and with the overwhelming enthusiasm and support from the crowd, I thought 'I can't give up'."
It was only after crossing the finishing line and collecting his medal that Mr Colborne was told to go to hospital, where he learned of the break.
Mr Colborne said: "I was shocked. The doctor said 'how the hell did you finish that?'."
Metatarsals are the five long bones in the forefoot which connect the ankle bones to those of the toes.
Injuries usually occur as a result of a direct blow on to the foot, a twisting injury or over-use.