Crowded Brockenhurst station taxi rank 'danger to pedestrians'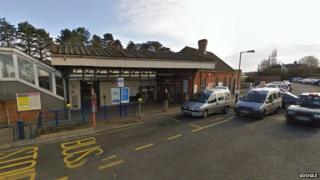 A New Forest taxi driver says too many cabs trying to use the rank at Brockenhurst railway station is making it dangerous for pedestrians.
Simon Booth says the rank was designed for four vehicles, but sometimes more that 20 cabs are trying to access it.
South West Trains says 17 taxis are licensed to use it but it has not had any complaints about safety.
British Transport Police said no accidents relating to the rank had been reported in the past year.
Mr Booth, who runs Brockenhurst Taxis, claims the situation has become so bad he no longer buys a permit for the station.
He says too many cars trying to negotiate the restricted space during rush-hour is "a disaster waiting to happen".
"When I started 10 years ago there were three, maybe four cars at any one time using that taxi rank," he explains.
"But in the last year we've seen a huge increase.
"I think it's going to be a case of somebody is going to get hurt before they actually do anything."
South West Trains/Network Rail alliance said each driver issued with a permit was given details about the rank, including the number of taxi spaces available.
"We have seen an increase in the number of people applying for taxi permits [at most stations] over the past few years," a spokesman said.
"However, at the same time, we have not received any customer complaints about the availability of taxis or any other issues relating to the taxi service provided at [Brockenhurst] station."