Fish smell leads to complaints from Bitterne residents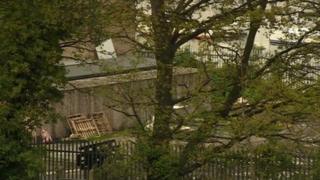 Residents living near a Southampton industrial estate say they face a "summer of hell" over a pungent smell from a fish processing plant.
The plant, operated by Ocean Process UK Ltd at Willments Industrial Estate in Bitterne is blamed for an odour smelt more than half a mile away.
The company blamed "gone-off fish" from suppliers and said it would alleviate the problems.
Southampton City Council has issued an order for the work to end by 20 May.
More than 170 residents first complained about noise from a refrigeration unit and the smell of stagnant fish broth emanating from the premises in 2012.
'Back with a vengeance'
Tommi Buckley, who lives nearby, said they had hoped the company had "gone away" after the council took planning enforcement action for breach of planning conditions last year but the issue came back when the company began operating again earlier this year.
He said: "The noise and the smells are back with a vengeance, it's making our lives unbearable.
"We may have to endure another summer of hell with this really strong fish smell which means we can't enjoy our gardens."
Harriet Buckley, who also lives in one of the affected properties, said: "When all this first started I was pregnant and the smell made me sick. Now I have a small baby, with summer coming, how am I supposed to keep windows open to keep my daughter cool?".
Ocean Process UK Limited told the BBC it had operated the site for two years and had "a couple of problems with gone-off fish from suppliers which were stored outside and caused a smell".
It promised no repetition of that issue adding that within the last week acoustic panelling has been added to reduce the noise problems.
Southampton City Council said that earlier this month planning enforcement officers served a Breach of Condition Notice which requires the use as a fish processing factory to stop by 20 May or it would consider prosecution.
It has also taken action under the Environmental Protection Act in relation to the noise and smells.
The company said it would make a retrospective application for the necessary planning permission and hopes to continue working on the site.