Cage fighter jailed for killing father of three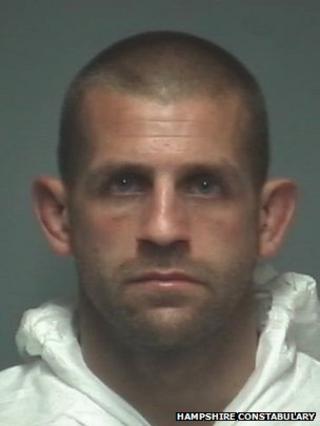 A cage fighter who beat his girlfriend's former partner to death has been jailed for 10 years.
Kevin Wyeth, a 31-year-old father of three from Woolston in Southampton, was beaten unconscious in August 2013 and died later.
Damon Wright, 32, of Pine Vale Crescent, Bournemouth, who competed in mixed martial arts cage fighting was jailed at Winchester Crown Court.
Wright was earlier cleared of murder but found guilty of manslaughter.
During the trial the court heard Wright had put on his cage fighting gloves, then followed Mr Wyeth to an alleyway, unseen, and attacked him, probably from behind.
In an attempt to avoid detection on CCTV, Wright returned to his girlfriend's flat after the attack and later came out wearing her clothes.
Mr Wyeth's blood was found on the gloves which Wright later hid in a friend's car.
Post-mortem tests showed Mr Wyeth's death was caused by head, facial and neck injuries.