Euro candidate Paul Weston arrested over Islam remarks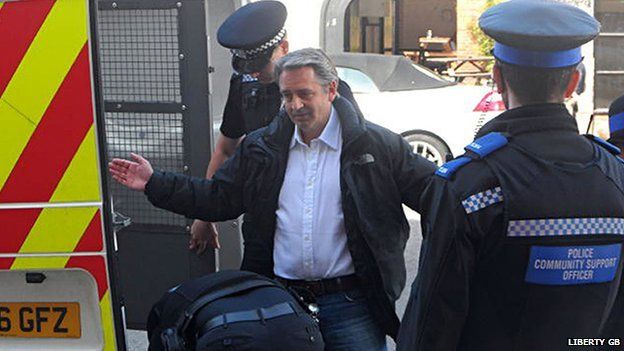 A candidate in the South East European elections has been arrested after making a speech quoting from a book by Winston Churchill about Islam.
Paul Weston, chairman of Liberty GB, was making the speech on the steps of Winchester Guildhall in Hampshire on Saturday after a passer-by complained.
He was detained after failing to comply with a request by police to move on under the powers of a dispersal order.
He was further arrested on suspicion of religious or racial harassment.
Mr Weston, 50, from Dorset, had been reading from Churchill's book The River War, written in 1899 while Churchill was a British army officer in Sudan.
A Hampshire police spokesman said: "The dispersal order was issued following complaints from members of the public about the man's behaviour."
Mr Weston was bailed until 24 May.
A Liberty GB spokesman said: "Mr Weston was standing on the steps of Winchester Guildhall, addressing the passers-by in the street with a megaphone.
"He quoted an excerpt about Islam from the book The River War by Winston Churchill.
"Reportedly, a woman came out of the Guildhall and asked Mr Weston if he had the authorisation to make this speech.
"When he answered that he didn't, she told him: 'It's disgusting', and then called the police.
"Six or seven officers arrived. They talked with the people standing nearby, asking questions about what had happened.
"The police had a long discussion with Mr Weston, lasting about 40 minutes.
"At about 3pm he was arrested. They searched him, put him in a police van and took him away."
Related Internet Links
The BBC is not responsible for the content of external sites.