Solent submarine wreck becomes tourist attraction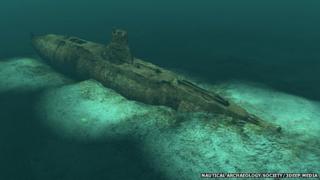 A wreck on the seabed in the Solent has become the first submarine dive trail in the UK opened up to tourists.
The HMS/mA1, which was the first British-designed and built submarine used by the Royal Navy, sank in 1911 in only 39ft (12m) of water.
Licensed divers can tour the wreck with the help of an underwater guide.
The waterproof tour programme helps them recognise features such as the conning tower, torpedo loading hatch and stern towing and lifting cable.
Built in 1902, the submarine was actually sunk twice - first in 1904 and again in 1911 while unmanned and being used for underwater target practice.
'Amazed at condition'
It now lies complete and upright on the seabed.
In 1998, it was designated under the Protection of Wrecks Act (1973).
The dives are being organised English Heritage and the Nautical Archaeology Society, which already run three other trails around the UK on sunken wooden warships.
Mark Beattie-Edwards, programme director at the Nautical Archaeology Society, said: "We are sure that the visiting divers will be amazed at the condition of HMS/mA1, which despite having spent over 100 years on the seabed is still to a great degree intact.
"It is our hope that visitors will be inspired to help us to protect other examples of our maritime history that now lie on the seabed."
Terry Newman, adviser for English Heritage, said it would "encourage greater understanding and recognition of England's underwater heritage".
The submarine was built in July 1902 by Vickers Sons & Maxim Ltd.