New Forest cycling charter agreed after event sabotaged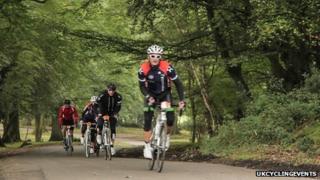 A code of practice for organisers of mass cycle events in the New Forest has been agreed after a ride was sabotaged.
Fifteen cyclists suffered punctures after tacks were laid at the New Forest Spring Sportive event in April.
The draft charter provides guidance on liaising with local communities, marshalling, and encountering wildlife.
Nigel Matthews of the National Park Authority (NPA) said: "Great care is needed to avoid unnecessary conflict and ensure the safety of all."
Campaigners opposing the Spring Sportive, which attracts up to 2,000 cyclists, had put up posters saying it was an "abuse of our tranquil locality".
There were also reports of tacks being thrown at the same event last year. Signs were also removed and a road blocked by protesters.
The draft charter was agreed by more than 20 bodies which make up the National Park Authority's cycling liaison group, including events organisers, local councils, tourism bodies and landowners.
It will be sent to other New Forest bodies before final approval, anticipated in several weeks' time.