Prince William downs rum on HMS Alliance submarine visit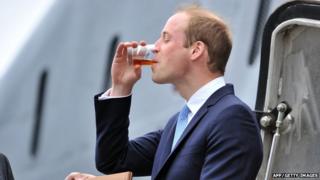 The Duke of Cambridge downed a gulper's measure of rum at a rededication ceremony for the only surviving British World War Two-era submarine.
Prince William, who is Commodore-in-Chief for Submarines, visited HMS Alliance at the Royal Navy Submarine Museum in Gosport, Hampshire.
He was greeted by local schoolchildren before downing the tot of neat rum - a ritual for newly qualified submariners.
The vessel, which has been restored at a cost of £7m, reopened last month.
The prince is the patron of the conservation appeal that carried out the repairs and refurbishment.
Arriving by Lynx helicopter, he then attended a service led by Royal Navy the chaplain Reverend Ernie Grimshaw to rededicate the vessel, as well as to remember two Australian World War One-era submarines.
One of them, AE1, sank in 1914 off Papua New Guinea and the other, AE2, was scuttled off Turkey and the crew seized.
During the visit, the prince was given a tour of the submarine and as he left it, he sank the rum and was presented with the Dolphins badge - given to submariners to mark their first posting.
Bill Sainsbury, museum marketing manager, prepared the drink for the prince.
He said: "He really enjoyed it, he seemed to be happy to have his rum, it put a big smile on his face.
"I had to prepare a gulper's measure for him, which is more than a sip.
"It was not watered down; the tradition is that lower ranks have it watered down and the officers have less water.
"His was neat, I didn't put any water in it which is right for his rank. I didn't measure it but he definitely had a good gulp."
'Nightmare George'
HMS Alliance forms part of an £11m Royal Navy project charting the force's history over the past 100 years.
Its restoration was part-funded by the Heritage Lottery Fund.
The submarine is now a memorial to the 5,300 British submariners who have lost their lives in service since 1904.
Before its restoration, which began in October 2011, it had begun to fall into the sea.
When asked by guide Terry Fearnley, a former stoker on Alliance, if he would be bringing son George to see the submarine, William replied: "It's great that younger generations can really see and feel what it is like to be a submariner.
"I wouldn't let George in here. A nightmare George is - too many things for him to pull and hit."
Mr Fearnley said he should not worry, to which the prince joked: "You say that."