Killed photo journalist Camille Lepage was 'heroine'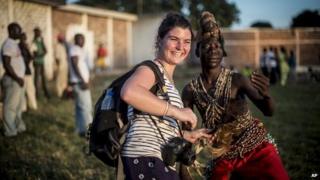 A photojournalist who was killed in Africa has been described by her former teacher as a 'heroine'.
The body of Camille Lepage, 26, was found in the Central African Republic (CAR) when a French patrol stopped a car driven in the Bouar region.
Paris officials confirmed on Tuesday night that the French photographer had been killed.
Andy Chatfield, who tutored her at Southampton Solent University, said she had been "passionate about injustice".
Camille had been a student on the BA journalism course at Southampton Solent University between 2008 and 2012.
She had been working as a photojournalist in South Sudan and later CAR.
Mr Chatfield said: "It was a terrible shock. We knew she was not afraid of putting herself in harm's way and there are journalists who have the mettle to go to these places.
"It's an incredibly dangerous place and life is very cheap there at the moment.
"She was interested in people who were voiceless and powerless rather than the great and powerful."
Her work had been published by the BBC and the New York Times among others.
Mr Chatfield said it had been "unprecedented" for a student of his to graduate and immediately begin work "effectively in war reporting".
He added: "She will be remembered as a heroine for our students... the ending of her career has been tremendously premature and devastating.
"Her death, like other journalists' deaths, should really stiffen our resolve to defend freedom of speech and make sure our governments defend it on our behalf."