Middle Wallop crash pilot lost control, inquest hears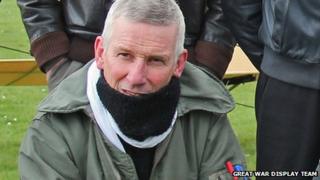 A pilot preparing for a display in a replica vintage plane lost control when a 180-degree turn caused a nosedive crash, an inquest heard.
John Day, 68, died after the Fokker Eindekker crashed and burst into flames at Middle Wallop, Hampshire last year.
The plane was difficult to fly as it used a wing-warping system rather than ailerons to control the turn of the wings, the Winchester inquest heard.
Coroner Graham Short recorded a verdict of accidental death.
Mr Day, a father-of-one, from Horsham, West Sussex, had been one of seven pilots practising a choreographed routine when his recently-built plane came down at the Army Aviation Centre on 27 April.
David Linney, a retired RAF and civilian pilot, told the hearing the Great War Display Team had completed a successful fly-through of the routine earlier that day in windy conditions.
'Died instantaneously'
The weather had improved during the second practice that afternoon, when the incident happened, he said.
Mr Linney described how Mr Day was carrying out a 180-degree turn but the aircraft continued to turn before nose-diving into the ground from a height of about 150ft and caught fire.
Coroner Mr Short said Mr Day died instantaneously of multiple injuries and would have died before the blaze took hold.
He said: "The unusual design feature was the lack of ailerons and the wing-warping mechanism used to distort the shape of the wings to assist with some manoeuvres.
"It's worth noting this method of control was subsequently obsolete, this is due to the advance of ailerons.
"Although John was an experienced pilot he had only flown this particular aircraft for about 10 hours.
"I think it is significant that John did not use his radio to tell other members of the team of the problems, which reinforces my view he suddenly found he couldn't control the plane and was desperately trying to do that rather than call others."
He said there had been criticism of the fire service's slow response to the incident but added this would not have affected the outcome.
In a statement, members of his display team said: "John was a superb aircraft builder, excellent display pilot and a lovely man who will be missed by all in the team."