QE2 crew on strike ahead of Asia hotel refit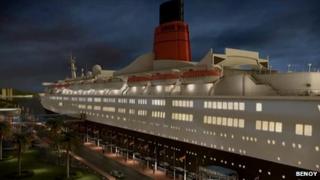 The crew of the QE2 in Dubai is on strike ahead of plans to sail it to China to be refitted as floating hotel.
Ukrainian workers on the former Southampton-based Cunard ship said they were not paid in March or April.
Owners Oceanic Group said an agency had been paid and blamed the political situation in Ukraine for difficulties in dealing with crew issues.
It said it was still planning on eventually locating the liner in Hong Kong or Singapore.
'Waiting for crew'
The BBC has obtained a letter from the Ukrainian captain to the ship's owners stating the 48-strong crew has been on strike since 15 May.
Winnie Ip, vice chairman of owners QE2 Holdings Ltd, said: "We are waiting for new crew to replace the existing ones on a sign-on/sign-off rotation basis, but, given the present political situation in Ukraine, it is difficult and a little slow."
She said the consortium was still committed to sailing the liner to a Shanghai shipyard under its own steam for the refit.
The 293.5m (963ft) long former Cunard flagship carried almost 2.5 million passengers and completed more than 700 Atlantic crossings following its launch from the John Brown Shipyard in Clydebank in 1967.
The QE2's home port was Southampton for 40 years but left for the last time in November 2008.
Its 900 cabins are to be converted into 400 larger suites as part of the planned £62m conversion work.