Son of 'Monty' opens new Aldershot garrison building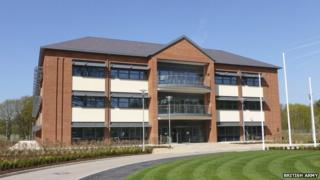 The son of Field Marshal Bernard Montgomery has opened a new building at Aldershot Garrison, the historical home of the British Army.
Lord David Montgomery opened Montgomery House, the new support command headquarters.
His father, nicknamed Monty, was the best-known British general of World War Two.
In 1965, he opened a group of four barracks at Aldershot, known as the Montgomery Lines.
Monty was famous for his victory at the Battle of El Alamein in November 1942.
During the official opening of Montgomery House there was also a re-dedication of a memorial plaque, which was first presented to the garrison in 1969 by Branch 466 Royal Canadian Legion of Toronto.
It commemorates Canadian soldiers killed during the bombing of Aldershot in 1940.
Arnhem, Bruneval, Normandy and Rhine Barracks were named after four famous airborne actions led by Montgomery.
The British Army first came to the barren heathland of Aldershot in 1854.
According to the Aldershot Military Museum, it "proved an ideal military base" as it was close to both London and Portsmouth.