D-Day commemorated in Portsmouth with Caen stone sculpture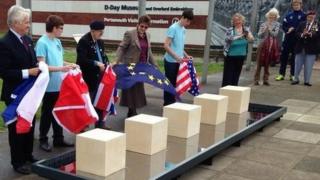 A sculpture made of five cubes of stone from Normandy, representing each of the beaches where the D-Day landings took place, has been unveiled in Portsmouth.
The piece - Five Beaches from Caen stone - was made by local architects Deer Park Alpha with artist Oliver Merkin as part of an EU funded project.
The cubes were transported from Normandy to Portsmouth's D-Day museum.
Billy Ansell, the city council European project co-ordinator, said it offered visitors a moment of contemplation.
He added that it was a "modern but complementary addition" to the museum.
The Caen stone cubes are on a 4.8m (15ft 8in) x 1.28m (4ft 2in) mirrored stainless steel platform which the artists say "represents the journey over the water to France".
They mark the 70th anniversary of the landings on the beaches codenamed Utah, Omaha, Gold, Juno and Sword.
Mr Merkin said: "D-Day was such a unique event, emotionally almost beyond comprehension to us some 70 years later.
"We do not wish to prescribe what veterans or visitors will feel about the piece. The abstract nature of the artwork aims to encourage reflection on what D-Day means to each individual."