Heatherwood and Wexham Park Hospitals breach patient data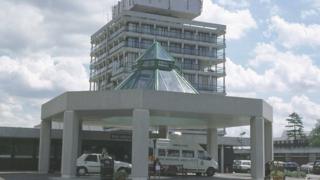 The personal details of 1,000 patients have been accidentally released by a hospital trust to two research companies, it has been revealed.
The data breach by Heatherwood and Wexham Park Hospitals included patient NHS numbers and ethnicity details.
The information has been revealed by a BBC Radio Berkshire Freedom of Information request to the trust.
The Information Commissioner's Office (ICO) investigated but decided not to take further action.
Conservative MP for Windsor Adam Afriyie described it as "shocking" and Bracknell's health scrutiny committee said it would "demand some reassurance" from the trust that it would not happen again.
'Human error'
Inpatient surveys were sent to the third party Picker Institute Europe and to data analysis company Ciconi, without patient identification being removed.
Both companies said they had since deleted the information.
In an email to the hospital on 19 May, the ICO said it was not taking further action because the breach appeared to be "the result of human error and that it was contained due to the prompt remedial action undertaken by the recipient at the research company".
"On that basis it appears that minimal detriment could be caused to the affected data subjects," it added.
The trust has refused to comment.