Winchester prison 'insufficient improvement' since critical report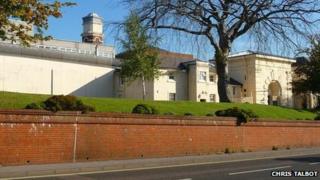 Prisoners feel unsafe and are at risk of violence at "seriously overcrowded" HMP Winchester, a report says.
Prison inspectors carried out an announced visit at the prison one year after branding it "neglected and drifting" in a March 2013 report.
They found it had failed to improve sufficiently and raised concerns about overcrowding and violence.
The National Offender Management Service (NOMS) said it would "drive forward further improvement".
The HM Inspectorate of Prisons report said closures of other penal establishments had added to the pressures on the prison.
Following the latest unannounced visit, inspectors described the main prison as "insufficiently safe" with ineffective anti-bullying measures and prisoners feeling more unsafe.
Their report found the prison remained "seriously overcrowded" at 35% over capacity and was serving a larger catchment area since the closures of other prisons in the region.
It also raised concerns about activity provision for its category B and C prisoners.
It said the prison had started to hold young adults following the closure of Reading Young Offenders Institution but was "struggling to manage them safely".
Improvements were found in cleanliness, efforts to combat drug use and staff-prisoner relations.
Chief inspector of prisons Nick Hardwick said progress had been "slow and limited".
"The prison needs a clear focus on the basics - keeping the men it holds safe and secure, treating all of them decently and preparing them to return to the community at less risk of reoffending, with good quality activities and resettlement support,"
Michael Spurr, chief executive officer of NOMS, admitted there was "more to do" at Winchester.
"A tougher violence reduction policy is now in place and the regime provides more activity and time out of cells for prisoners.
"The governor will use the recommendations in the report to drive forward further improvement over the next 12 months," he said.