Ambulance crash deaths trial: Richard Husband 'did not see 999 vehicle'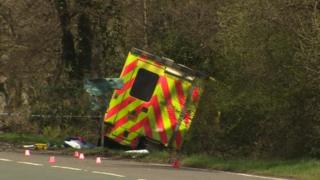 A driver failed to see an ambulance behind him before the two vehicles crashed at 70mph killing a paramedic and a patient, a court heard.
Richard Husband said he checked his mirror but did not see the vehicle, which was on a 999 call last year.
Gillian Randall, 42, who was driving the ambulance, and patient Francis Ironside, 88, were killed when the vehicle hit a tree in the New Forest.
Mr Husband, 26, denies two counts of causing death by careless driving.
In a statement to police, Mr Husband, of New Forest Drive, Brockenhurst, said he had been transporting three teenage pupils in his Seat Alhambra people carrier in his role as a school support worker.
They had been playing loud music and he had repeatedly told them to turn it down, the court heard.
The car in front of Mr Husband had slowed on the A337 near Lyndhurst on 26 April after seeing the ambulance, which was attempting to overtake both vehicles.
As the ambulance drew level, Mr Husband pulled to pass the car in front but collided with the 999 vehicle which then left the road, Bournemouth Crown Court heard.
A crew member and a relative of the patient, who were also travelling in the back of the ambulance on its way to hospital, sustained serious injuries.
The trial continues.