Ambulance deaths trial: Accused recalls 'horrific' crash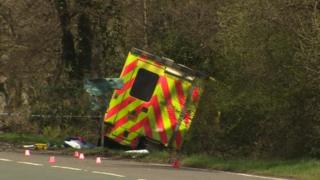 A motorist accused of causing the deaths of two people in an ambulance told a court of the "horrific" moment when the car he was driving collided with the vehicle.
Richard Husband, 26, said he checked his mirror but did not see the vehicle.
Paramedic Gillian Randall, 42, who was driving the ambulance, and patient Francis Ironside, 88, were killed when it hit a tree in the New Forest.
Mr Husband denies two counts of causing death by careless driving.
The ambulance was on an emergency call and travelling at 70mph (112km/h) at the time of the crash on the A337 near Lyndhurst, on 26 April last year.
Another paramedic, Mr Ironside's son and two other passengers, all of whom were in the ambulance, were seriously injured.
Mr Husband told the Bournemouth Crown Court he was driving three children to school in his role as a support worker along the Brockenhurst to Lyndhurst road, when he saw the car in front of him slowing down.
He said he thought it was pulling over for personal reasons, perhaps to answer a mobile phone call.
The court heard he checked his driver's side wing mirror, indicated and went to overtake the car.
He added he could not remember what he had seen in the mirror, but that he had not seen an ambulance or any blue lights.
'Best attention'
"I had no idea what hit me - it was just horrific," he told the court.
In a written statement given to police after the crash, Mr Husband, of New Forest Drive, Brockenhurst, said the pupils in his car were playing music very loudly through the car stereo.
Giving evidence in court, he said the music was at a normal level at the time of the crash and did not affect his concentration, or compromise his driving.
Under cross-examination by the prosecution it was suggested to Mr Husband he had had a momentary lapse in concentration.
"I was paying the best attention I could on the day," he replied.
The trial continues.