Undercliff Drive repair 'could cost £20m'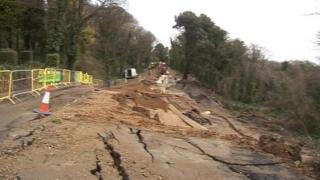 Repairing an Isle of Wight road affected by a landslip could cost up to £20m, a report has said.
The ground at Undercliff Drive, on the island's south coast, is continuing to subside more than four months after nine houses there had to be evacuated.
The instability followed heavier-than-average rainfall during the winter.
Six options, including pedestrian-only access, a temporary low-cost road and opening the road in one direction, are due to be discussed by the council.
Nine properties between Niton and St Lawrence were left landlocked and inaccessible when the landslip started in February.
One of the affected properties has been declared unsafe by the council's building control section. Two of the properties are still occupied.
A report to the Isle of Wight Council prepared by Island Roads said ground movement had slowed, but not stopped.
It stated fully repairing and re-opening the road from Ventnor to Niton would cost anything from £6m to £20m.
Jon Gilbey, of Isle of Wight Council, said the options needed to be "fully and properly costed".
"The welfare and concerns of the affected residents remain paramount. We are doing all we can to reach a decision on the road's future as soon as possible," he added.
Island Roads is a partnership between the council and private companies aimed at maintaining the Isle of Wight's highways under a Private Finance Initiative scheme.