Giant ammonite goes on display on Isle of Wight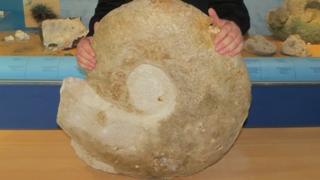 A giant fossil ammonite has gone on display at an Isle of Wight museum.
The spiral-shaped fossil, believed to be about 100-million-years-old, was unearthed in Sandown in March.
Alex Peaker from the island's Dinosaur Isle museum found the ammonite in debris following a cliff fall during a fossil walk.
He said: "I didn't want to get my hopes up as shapes can be misleading. However, I took a closer look and saw the distinctive lines of an ammonite."
Beach buggy
After gaining permission to remove the shell from the National Trust, which owns the land, the surrounding rock was removed to extract the fossil.
Weighing in at around 110 kilos (242 lbs,) it was then taken from the beach using a beach buggy to cope with its weight over the sand.
The ammonite has been identified by museum staff as Austiniceras austeni, from a group of ammonites known as Parapuzosia.
Ammonites were free-swimming molluscs which lived around the same time as the dinosaurs.
They came in a range of sizes, from tiny species only a couple of centimetres across, to large ones reaching over 2m in diameter.
Their shells acted as flotation tanks, allowing them to move up and down in the water.
They became extinct towards the end of the Cretaceous period, 65 million years ago.