Union talks over Portsmouth Royal Mail jobs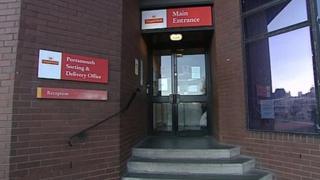 Unions are to hold talks with Royal Mail over a decision to relocate a Portsmouth sorting office to Southampton, putting 360 jobs at risk.
It follows an announcement to move processing operations from the Slindon Street site as part of a wider review.
Deliveries will stay at the site - securing 200 jobs - but Royal Mail was unable to comment on the impact to processing staff.
The Communication Workers Union said it understood and accepted the decision.
'Period of uncertainty'
Royal Mail said the relocation, which is expected to take place over the next 15 months, was due to a decline in mail and a "huge growth" in electronic communications.
Andrew Couzens, from the Communication Workers Union, said: "It's something that we have to accept - it's a sad time for Portsmouth yet again but hopefully we will get through it.
"[There is] a hell of a lot of work for the CWU and Royal Mail to do to try and safeguard [workers'] jobs and hopefully match whatever they are doing to wherever they are going to go."
Royal Mail said: "We understand that any change to our mail centre processing operations in Portsmouth will, unfortunately, impact on some colleagues.
"Our agreements with the CWU set out an agreed approach to managing these changes and we will be working very closely with CWU and Unite CMA [Communication and Managers' Association] to support our people during what will, inevitably, be a period of uncertainty."