Isle of Wight's Undercliff Drive landslip road investigations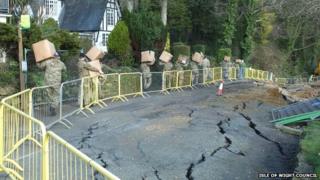 Plans for a temporary low cost road are to be investigated on an Isle of Wight route affected by a landslip.
The council's executive committee agreed to investigate three of six possible options for Undercliff Drive in St Lawrence.
These also include the possibility of re-establishing pedestrian access only, and a new access road to properties along the base of the cliff.
Previously, the council said it could cost up to £20m to repair the road.
The report had recommended the council and Island Roads, which provides highway maintenance for the authority, look in more detail at the road repair options and their costs before a preferred scheme was agreed.
Land movement at two main locations left nine properties landlocked and inaccessible by vehicle, when the landslip started in February.
Rainfall levels during the winter of 2013-2014 were 25% higher than in any previous year and contributed to the land movement, the report said.
The other options considered by Isle of Wight Council on Monday also included the permanent closure of the affected part of Undercliff Drive.
The council said re-establishing pedestrian access only would cost between £250,000 to £500,000, while repairing and reopening a through road from Ventnor to Niton would cost between £6m and £20m.
One of the affected properties has been declared unsafe by the council's building control team, which continues to monitor the remaining properties. Two of the properties are still occupied.