King Edward VI School closed by contagious viral illness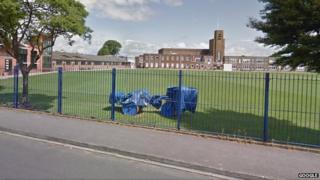 An independent school in Southampton has closed following an outbreak of a "highly contagious" viral illness.
The King Edward VI School closed on Tuesday after 21 students contracted a gastrointestinal illness following a trip to the New Forest last week.
Pupils not on the trip also became ill after the group returned.
The school said it made the decision to close for the rest of the term after speaking with Public Health England and the chair of governors.
Public Health England (PHE) said 129 students had visited the New Forest.
'Highly contagious'
The school's head teacher, Julian Thould, said it was not clear whether the bug came from the trip or if a pupil had brought it with them.
The illness was likely to have been norovirus, which is "highly contagious", PHE said.
Symptoms of the illness include vomiting and diarrhoea.
The school said in a statement on its website that "every effort" had been made to "ensure the infection was limited in its impact".
The term had been due to finish on Friday. All remaining activities planned for the remainder of this week have been either cancelled or postponed.