Totton council reverses decision on paddling pool hours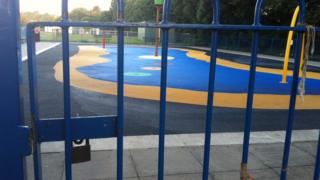 A decision not to open paddling pools on summer mornings in a Hampshire town has been has reversed by the council.
More than 400 people signed an online petition demanding the splash pools in Totton open from 10:00 BST.
David Harrison, the Liberal Democrat member for Totton South and Marchwood who campaigned to open the pools, called it a "victory for people power".
The additional cost of opening the facilities for two hours is about £1,500.
The expenditure still has to be agreed by the council's policy and resources committee.
Totton and Eling Town Council said in June that "current financial constraints" meant opening before 12:45 BST was too costly.
Mr Harrison said: "I am absolutely delighted that my fellow councillors have at last agreed that these facilities should be made available in the mornings.
"There is obviously a huge demand. It was a huge waste, having facilities that cost £30,000 a year to run, locked up for half the day."