Hambledon £3.9m flood alleviation scheme approved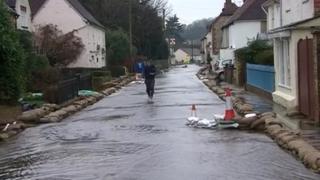 A £3.9m alleviation scheme to help a flood-hit Hampshire village has been approved.
Hambledon was flooded for more than 40 days earlier this year and has a long history of groundwater flooding.
A 3ft (1m) diameter pipe will be installed under the village and drainage ditches will be cleared.
Hampshire County Council has bid for a £1.4m government grant to help pay for the scheme, but it said a total of £2.45m funding had been secured.
Sean Woodward, executive member for Economy, Transport and Environment, said proceeding without the full funding was a risk, but the council was doing so because it was an important scheme.
'Reduce the risk'
He said: "There is a huge history of flooding events in Hambledon.
"What we are trying to do is get the water piped through the village as quickly as possible.
"We are trying to reduce the risk as far as possible."
Tony Higham, chairman of the Hambledon Flood Action Group, said there were still villagers who were unable to use the ground floor of their homes because of flood damage.
He said: "We think it (the alleviation scheme) will make a significant difference and we are delighted the council is taking things so seriously."
Mr Woodward said he would be discussing the scheme with MP Owen Paterson, Secretary of State for Environment, Food and Rural Affairs, on Monday.
The county council has already begun investigatory work in the village.