Arrest over Portsmouth lone women attacks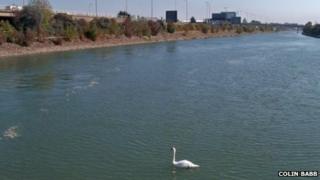 A man has been arrested in connection with three motiveless attacks on lone women in Portsmouth.
A 20-year-old victim was assaulted on 20 June in Cosham, and a 45-year-old woman was attacked nine days later in Hilsea.
Both women were stabbed in the chest. Another woman was treated in hospital after an attack in Cosham on Friday.
A man, 30, from Waterlooville, has been arrested on suspicion of causing grievous bodily harm with intent.
Increased patrols
The 45-year-old dog walker was approached by a man on a wooded footpath along the shore of Ports Creek in Hilsea, at about 11:20 BST on 29 June.
The attack happened east of the footbridge that crosses from Peronne Road to the Highbury estate.
The 20-year-old woman was assaulted by a man at about 22:40 on 20 June on Southampton Road, opposite a block of flats on Ashurst Road, in Cosham.
Police believe both women were attacked by some sort of bladed object, possibly a knife, although their injuries were not life-threatening.
The third woman was attacked by a man at about 13:00 on Friday as she was walking in an alleyway between Colwell Road and Northern Road in Cosham.
Her injuries, the details of which have not yet been revealed, were not life-threatening.
The force said increased police patrols would continue over the weekend to provide reassurance to the community.