Gosport mayor Wayne Ronayne steps down after pub ban incident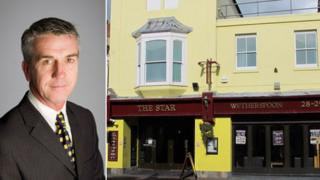 A new mayor has stepped down after a six-month ban from pubs in his town, but claims he is innocent of accusations of "drunkenness".
Wayne Ronayne had been celebrating with friends in a Gosport pub on 4 June when he was asked to leave, hours after being sworn in as the town's mayor.
He said: "I was sober when I arrived and sober when I left".
But a spokesman for JD Wetherspoon, which owns the pub, said the group had "behaved badly".
'No wrong-doing'
Mr Ronayne, a Conservative councillor, said it was a "great personal disappointment" to step down, especially after only 40 days in the role.
He said "inaccurate press reports" of the night had damaged his reputation.
"I can assure you, I wasn't the drunken mayor that arrived", he said.
"My decision is not based on any admission of wrong-doing.
"I do not wish to bring the position of the mayoralty into disrepute, nor tarnish the good reputation of Gosport."
He told the BBC he had been with group of nine friends and family celebrating in The Star, in Gosport's High Street, and had only had a pint of beer.
He was told he "could no longer be served" as bar staff thought one of his group was asleep.
He asked to speak to the manager and police were called.
'No argument'
Local newspaper The News said it understood "an argument broke out".
But Mr Ronayne said. "There was no argument. We left quietly and peacefully.
"I proceeded home as sober as I arrived".
His appeal against the decision by Gosport's Pub Watch to ban him from all 36 pubs in the town was turned down.
The JD Wetherspoon spokesman said: "From our point of view, whether you're the mayor of Gosport or a regular person, if they behave badly we do not want them back in the pub".
He added the mayor's resignation "was of no consequence" to the firm.
Gosport Borough Council will find a new mayor within the next week.