£32m Cowes Enterprise College given to academy trust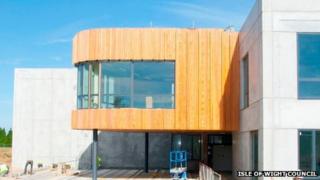 A deal to give a £32m Isle of Wight school to an academy organisation has been approved by councillors.
Isle of Wight Council has the freehold of Cowes Enterprise College, which is due to convert to a sponsored academy.
The council said it had offered to lease the secondary school to Ormiston Academies Trust (OAT), but it refused and asked for the freehold of the site.
Under the Academies Act 2010, the school can be taken out of the hands of the local council.
"This means if the council does not agree to a freehold transfer the Secretary of State will direct that it transfers the freehold to OAT," the council said.
"So the council has effectively no choice."
The transfer was agreed by the council's executive committee on Wednesday.
'Benefit of students'
The transfer will take effect from 1 September, when the college converts to a sponsored academy.
Prof Toby Salt, of Ormiston Academies Trust, said: "As a not-for-profit sponsor, our only interest is in serving students to the best of our ability.
"We have been working closely with colleagues at Isle of Wight Council and look forward to continuing this relationship in future for the benefit of Cowes students."
The school and its land can only be used for educational purposes.
Ormiston Academies Trust would also have to gain permission from the Secretary of State to sell any land or buildings.
Construction on the building began in 2010 and the school opened in September 2013.
In April, it was revealed the school had a leaking roof and electrical defects, estimated at £9m to repair.
The council was left to foot the bill after contractors Pihl UK went into administration.