Leslie Southern Court residents rescued from fire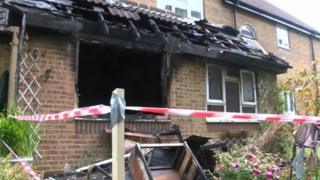 Elderly residents at a sheltered housing facility were rescued by neighbours and firefighters from a blaze at the premises.
An automatic alarm activated at Leslie Southern Court, Newbury when the fire broke out on Saturday evening.
Jeremy James from the Royal Berkshire Fire & Rescue Service said crews "were faced with multiple people within the building"
The cause of the fire is being investigated.
Mr James said two women were rescued from ground floor flats and a man was led to safety from a flat above the fire.
Residents were also helped to escape the flames by neighbours.