Attacked Ryde lifeboats 'out of action for a month'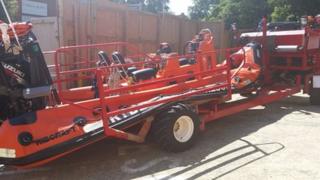 Two lifeboats will be out of action for a month after they were found to have been slashed by a sharp object.
The damage to the inshore rescue lifeboats based at Ryde on the Isle of Wight was found on Monday evening. They could cost £16,000 to repair.
Coxswain Adrian Farrell said: "Words fail me that someone could do this.
"July and August are our busiest times of year. Please, please if you are down the beach with your children, be watchful as we are not able to assist."
Run by volunteers, Ryde Inshore Rescue is coordinated by HM Coastguard at Lee on the Solent. It covers an area between seaside resort Seaview, Osborne Bay and part of the Solent.
Mr Farrell said: "It's still covered but boats will have to come from further afield so there will be a delay."
He said the boats had been left in a secure compound surrounded by an 8ft (2.4m) fence.
The service said it rescued or assisted 97 people last year.