'Boris bikes' for New Forest to be discussed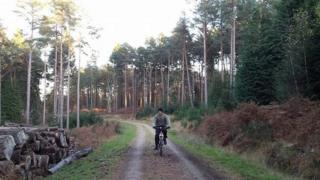 A public cycle hire scheme, similar to "Boris bikes" in London, could be introduced in the New Forest.
The New Forest National Park Authority is to consider introducing about 20 cycle docking stations and up to 250 bikes in the east of the forest.
The group said the forest would be one of the first rural places to introduce the scheme.
Details on how the bikes will be hired and returned are still being considered.
District and county councillor David Harrison said: "I think it would be hugely beneficial. It's a great form of transport and it gets people more likely to explore the forest and enjoy the wonderful environment in a healthy manner. It's non-polluting and I think it's generally exciting for residents and visitors, should it go ahead."
'Rural setting'
The park authority said the plans would reduce the impact of "excessive traffic" by providing a network of bike hire stations, attractions and transport links.
The Department for Transport provided £3.6m towards promoting sustainable transport in the New Forest National Park in August and the money must be spent by April.
The bikes will be provided and maintained by a private company, but an operator has not yet been picked.
Mark Kirtley, who owns Forest Leisure Cycling, which provides bike hire in the area, welcomed the plans.
He said: "It's something that could work very well. It's got to be transferred from the "Boris Bikes" in London to a rural setting.
"We don't feel threatened by it as a company and will work with the operators who take it on."
Public drop-in sessions on the plans take place between 18:00 and 20:30 BST at Lyndhurst community centre on Monday and at Brockenhurst village hall on Wednesday.