Study finds more ancient woodlands on Isle of Wight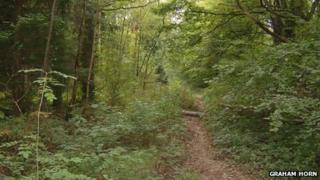 The Isle of Wight has more ancient woodland than previously thought, a new survey has found.
The Isle of Wight Biodiversity Partnership research revealed nearly 250 extra hectares (600 acres) not shown in a previous study in 1987.
The discrepancy is put down to new techniques and detailed maps, surveys and estate records being available.
Ancient woodland is defined as dating from before 1600 and is classified as an irreplaceable resource.
The island's Ancient Woodland Inventory survey, carried out over two years, re-examined the whole island and found 110 parcels could be classified as ancient woodland.
'Unique character'
The area of extra identified woods represented a 14.8% increase on the 1987 study.
The revised inventory shows 4.06% of the island's area as being ancient woodland.
Isle of Wight councillor Luisa Hillard said the designated ancient woodlands added to the island's "unique character".
"One of the main reasons people visit the Isle of Wight is to see the countryside and it is important these areas are protected for their social and economic benefits," she said.