Isle of Wight car ferry back in service after accident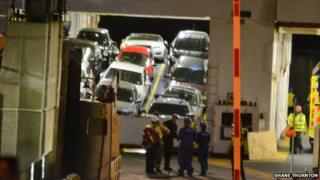 An Isle of Wight ferry which was removed from service after its upper car deck collapsed injuring four people has resumed sailings.
The ship, St Helen, was suspended following the accident which happened while the ferry was berthed at Fishbourne on Friday 18 July.
Operator Wightlink said it was sailing with its upper deck secured out of use.
The Marine Accident Investigation Branch said a wire failure on the mezzanine deck was being investigated.
It said the company's inspection and maintenance regime and its deck operations were also being looked at.
A crewman who was injured in the deck collapse suffered concussion and a cut to the head. Three car passengers are understood to have suffered whiplash related injuries.
John Burrows, chief operating officer at Wightlink, said: "All of our ships undergo regular, planned maintenance and, even though St Helen's mezzanine deck is of a different design to our other vessels, we have taken the precaution of having all our mezzanine decks independently inspected and we will continue to check them daily".
The ship last underwent an independent engineering inspection in May, the company said.
The vessel had sailed from Portsmouth Gunwharf at 21:30 with 181 passengers and 11 crew onboard.
Wightlink said it was also conducting its own investigation.